No matter who you are or where you are on life's journey, you are welcome here!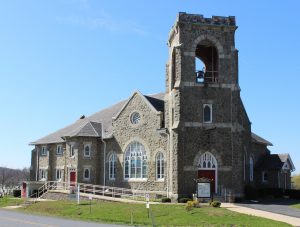 We invite you to experience God's grace through a ministry of caring. Please join us!
September through June

Sunday School begins at 9:00 a.m.
Worship begins at 10:15 a.m.

July and August

Summer Worship begins at 9:00 a.m.
Sunday School is not in session.
COOKIE WALK – DATE CORRECTION
The date for our annual Cookie Walk is Saturday, December 14 from 8 AM to noon.
It has been listed in some ads with an incorrect date. The actual date is December 14!
News
In this Thanksgiving season, we give thanks for the successful fund-raisers to date benefiting the window restorations. The most recent fundraiser saw over 300 corn pies sold and $1,600 raised. Special thanks to Jan Strobel who chaired the event and recruited many willing workers; to the willing workers who manned the kitchen, assembled the corn pies and oversaw the pickups; to the Social and Aid Society and Outlook Committee for covering costs and providing supplies; and to the members and friends who supported the sale. Thanks also to you, our members, for your continued individual donations to the campaign. The Windows Committee continues to meet with contractors and is evaluating the scope of needed restoration. Stay tuned for reports which will be provided monthly.