Update, October 2021
The $5,000 Matching Gift Challenge is well underway, and we are pleased to report that from September 1 to October 24 members have contributed $3,483. Five weeks remain to raise the $1,517 needed to meet the challenge. If you have been considering a donation, now is the time. We can do this!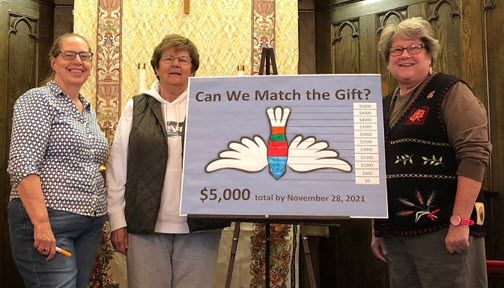 Update, September 2021
On September 12, 2021, the Windows Renovation Committee provided an project update to the congregation during worship. You can view the information on YouTube. The basics: current status of the project, next windows to be renovated, and announcement of a new matching gift challenge in the amount of $5,000 to run now through November. As always, the committee is amazed by the onging generosity of the congregation in supporting this renovation project!

Update, June 2021
On June 13, 2021, the members of the Windows Renovation Committee provided a project update to the congregation during the worship service. You can read a summary of the presentation or view the presentation on YouTube.

Update, Summer 2020
Exciting news! Work has begun on the restoration of the twin stained glass windows flanking the organ. Cumberland Stained Glass of  Mechanicsburg, PA was selected from five studios to perform the restoration. Cumberland has been in business since 1992 and owner Bryan Lerew has over 40 years experience in the industry.

Repairs to the windows have been made in-house over the years, the latest being in 2000.  But since the windows are over 100 years old, Cumberland advised that continuing to make repairs is no longer feasible and is a waste of our resources. Instead, they recommend a complete restoration of the windows which includes:

REPAINTING OF THE MEDALLIONS which have deteriorated beyond repair. The medallions will be repainted and returned to the original beauty intended by the artist. This step began with the removal of the medallions and transport to the studio on September 14. Clear blue glass was temporarily inserted in the openings.

REMOVAL OF THE WINDOWS for transport to Cumberland's studio where they will be dismantled, the glass will be hand-washed and reassembled with new lead came and then reinstalled into their respective openings. Painted glass that is badly broken will be replicated. The openings will be temporarily closed with 1/2" homasote.

INSTALLATION OF NEW PROTECTIVE COVERINGS which will be vented at the top and bottom of each window to prevent heat and moisture build-up and to preserve the stained glass.

EXISTING WOOD WINDOW FRAMES will be scraped, primed and painted.

Cumberland expects to remove the windows in the next few weeks and anticipates returning them by December.

Your continued financial support of the windows project throughout the summer has been outstanding and we are happy to report that the Change for the Windows jar brought in another $134.91. Kudos to all!
280921