Christian Ed
Sunday School takes summers off.  Will be back on Sunday, September 8 at 9:00 a.m.
NAME THE CAMPAIGN
The Capital Campaign Committee is happy to report that two stained glass window restoration studios have visited and submitted proposals and recommendations to repair and refurbish our sanctuary windows. Two other companies are being scheduled. So, the "ball is rolling." Over the summer, please get your "creative juices rolling" and help us give the campaign a catchy logo or slogan. It can be an acronym, or contain several words, or even a picture. Please email your ideas to Beth Massa at massaed@airproducts.com or Ruth Stansfield at rstansf905@aol.com or see them in person by September 1. The winning entry will be announced later that month and a prize awaits the winner. Please also let them know if you would like to be a part of some or all of this exciting project. 
Dan Schantz Fundraiser
          Coupons for FUN Group's Dan Schantz Fundraiser are included in this month's newsletter. They are good until December 25. (Please note: FUN Group will receive the proceeds through June, and Village School will receive the proceeds from July through December.). We will receive $2.00 when the coupon or app is presented with a minimum $10.00 purchase. Remember you can share them with friends, too!
1. Thou shalt accept my youthfulness. I need tender direction and loving leadership. Constant criticism and raised eyebrows make me feel foolish and inadequate.
2. Thou shalt accept my imperfections. Please don't expect perfection whenever you assign a task to me. I really do learn by my mistakes.
3. Thou shalt accept my limitations. My hands are small and sometimes I seem awkward and clumsy.  Please be patient with me.
4. Thou shalt show me the way to go. When I show off, I'm really asking for affirmation and reassurance.  Could you please give me gentle guidance so my behavior doesn't become my attitude?
5. Thou shalt welcome me. If I'm new to your class, please take the time to explain the routine and show the other children that you're glad to see me (even if you thought your class was big enough already).
6. Thou shalt expect the best from me. Please don't  have preconceived ideas about me. I have the tendency to live up to your expectations. Expect me to behave appropriately.
7. Thou shalt make the Word of God come to life for me. Find creative ways to teach me about the power of God, the ministry of Jesus, and all of God's Word.
8. Thou shalt help me know and do what's right.  Nobody needs to show me how to sin (it comes naturally), but somebody please care enough to lovingly discipline me when I act inappropriately.
9. Honor my father and mother with good  communication. Talking to my parents could help you discover my fears, my joys, my problems, my talents, my weaknesses, and my strengths.
10.Thou shalt pray for me. You know, you may be the only person in the whole world who talks to God about  me. I need you to ask God to help me.
Peace to all,
Pastor Lori
As we begin the new year, it might be helpful to find a mantra or a prayer to hold close to your heart this year on your journey through life. I have found that the Prayer of St. Francis is a helpful stabilizing set of words that bring gentleness and comfort to the forefront. "In most of the published versions of the prayer, the text is abridged, paraphrased, and/or copyrighted. Below is the complete original text from its earliest known publication (1912, in French, copyright expired), alongside a line-by-line English translation." (source Wikipedia) I have only provided the English version for you. May this bring a focus for us all as we move into 2019.
English translation
Lord, make me an instrument of your peace.
Where there is hatred, let me bring love.
Where there is offense, let me bring pardon.
Where there is discord, let me bring union.
Where there is error, let me bring truth.
Where there is doubt, let me bring faith.
Where there is despair, let me bring hope.
Where there is darkness, let me bring your light.
Where there is sadness, let me bring joy.
O Master, let me not seek as much to be consoled as to console,
to be understood as to understand,
to be loved as to love,
for it is in giving that one receives,
it is in self-forgetting that one finds,
it is in pardoning that one is pardoned,
it is in dying that one is raised to eternal life.
Peace to all,
Pastor Lori
Someone said that money can buy a bed, but it can't buy you sleep. It can buy you books, but not brains. It can buy you food, but not an appetite. It can buy a house, but not a home. It can buy medicine, but it can't buy health. It can buy all kinds of amusements, but it can't buy happiness. Money can buy a fine dog, but only love will make the dog wag its tail.
What kind of wealth do you want? We celebrate the wealth of God's love in Jesus Christ. The wealth of God's love brings us what the wealth of the world cannot touch: Peace, understanding, fulfillment, life. These things are eternal.
In Milan, Italy, there is a great cathedral with three doors. On the door to the right is written: "All that pleases lasts only for a moment." The door on the left proclaims: "All that troubles lasts only for a moment." And the large center door reminds all that approach: "Nothing is important except that which is eternal." In this life you will experience pleasures and troubles. What lasts forever is the wealth of God in Jesus. (author unknown)
Take this time this Advent and Christmas season to ponder the wealth of God in Jesus that you have. It will change your life.
Blessings to all for a Peace-filled holiday,
Pastor Lori
Washington, D.C.
October 3, 1863
By the President of the United States of America.
A Proclamation.
The year that is drawing towards its close, has been filled with the blessings of fruitful fields and healthful skies. To these bounties, which are so constantly enjoyed that we are prone to forget the source from which they come, others have been added, which are of so extraordinary a nature, that they cannot fail to penetrate and soften even the heart which is habitually insensible to the ever watchful providence of Almighty God. In the midst of a civil war of unequalled magnitude and severity, which has sometimes seemed to foreign States to invite and to provoke their aggression, peace has been preserved with all nations, order has been maintained, the laws have been respected and obeyed, and harmony has prevailed everywhere except in the theatre of military conflict; while that theatre has been greatly contracted by the advancing armies and navies of the Union. Needful diversions of wealth and of strength from the fields of peaceful industry to the national defence, have not arrested the plough, the shuttle or the ship; the axe has enlarged the borders of our settlements, and the mines, as well of iron and coal as of the precious metals, have yielded even more abundantly than heretofore. Population has steadily increased, notwithstanding the waste that has been made in the camp, the siege and the battle-field; and the country, rejoicing in the consciousness of augmented strength and vigor, is permitted to expect continuance of years with large increase of freedom. No human counsel hath devised nor hath any mortal hand worked out these great things. They are the gracious gifts of the Most High God, who, while dealing with us in anger for our sins, hath nevertheless remembered mercy. It has seemed to me fit and proper that they should be solemnly, reverently and gratefully acknowledged as with one heart and one voice by the whole American People. I do therefore invite my fellow citizens in every part of the United States, and also those who are at sea and those who are sojourning in foreign lands, to set apart and observe the last Thursday of November next, as a day of Thanksgiving and Praise to our beneficent Father who dwelleth in the Heavens. And I recommend to them that while offering up the ascriptions justly due to Him for such singular deliverances and blessings, they do also, with humble penitence for our national perverseness and disobedience, commend to His tender care all those who have become widows, orphans, mourners or sufferers in the lamentable civil strife in which we are unavoidably engaged, and fervently implore the interposition of the Almighty Hand to heal the wounds of the nation and to restore it as soon as may be consistent with the Divine purposes to the full enjoyment of peace, harmony, tranquillity and Union.
In testimony whereof, I have hereunto set my hand and caused the Seal of the United States to be affixed.
Done at the City of Washington, this Third day of October, in the year of our Lord one thousand eight hundred and sixty-three, and of the Independence of the United States the Eighty-eighth.
By the President: Abraham Lincoln
William H. Seward,
Secretary of State
Accentuate the positive and eliminate the negative. That seems to be a good thought for all of us. Think with me about how much we need somebody in this church family. There is no importance placed upon the manner or the list in which I write about somebody.
Let's address somebody who unlocked the church so we could enter.
How about somebody who was a greeter or an usher?
Do not forget somebody who made the lists for those jobs.
Somebody on the worship committee had a hand in our church service.
The hymnals were provided by somebody.
Oh, that bulletin was done by somebody.
The contents of the bulletin were supplied by somebody.
The altar flowers were supplied by somebody.
The right altar cloths had to be placed by somebody.
The sermon had to be prepared and delivered by somebody.
The scriptures had to be read by somebody and the list prepared by somebody.
The hymns had to be selected by somebody.
The choir had to be directed by somebody.
And somebody had to be willing to sing in the choir.
Somebody had to play the organ.
Most important, somebody had to show up for this service.
Somebody had to make an offering to the church.
We certainly have somebody who cleans our church facility.
Somebody gets to count the offering. Somebody takes the funds collected to the bank.
Thank God for somebody or this church would be closed. Sunday after Sunday somebody performs all these tasks and more, some for financial reward but most for spiritual reward.
I hope that you might be somebody we can count on at Old Zionsville UCC.
Accentuate the positive, eliminate the negative.
Be Thankful in all things.
Peace, Lori
(This column originally appeared in a Bethany UCC, Bethlehem, 2009 newsletter and was written by Dan Sabetti. I altered it slightly. Thanks to Dan for his original thoughts and for being somebody!)
Halloween safety tips from Safe Kids Worldwide, a nonprofit organization working to help families and communities keep kids safe from injuries.
Walk Safely
Cross the street at corners, using traffic signals and crosswalks.
Look left, right, and left again when crossing, and keep looking as you cross.
Put electronic devices down and keep heads up and walk, don't run, across the street.
Teach children to make eye contact with drivers before crossing in front of them.
Always walk on sidewalks or paths. If there are no sidewalks, walk facing traffic as far to the left as possible. Children should walk on direct routes with the fewest street crossings.
Watch for cars that are turning or backing up. Teach children to never dart out into the street or cross between parked cars.
Trick or Treat With an Adult
Children under the age of 12 should not be alone at night without adult supervision. If kids are mature enough to be out without supervision, they should stick to familiar areas that are well-lit and trick-or-treat in groups.
Keep Costumes Both Creative and Safe
Decorate costumes and bags with reflective tape or stickers and, if possible, choose light colors.
Choose face paint and makeup whenever possible instead of masks, which can obstruct a child's vision.
Have kids carry glow sticks or flashlights to help them see and be seen by drivers.
When selecting a costume, make sure it is the right size to prevent trips and falls.
Drive Extra Safely on Halloween
Slow down and be especially alert in residential neighborhoods. Children are excited on Halloween and may move in unpredictable ways.
Take extra time to look for kids at intersections, on medians, and on curbs.
Enter and exit driveways and alleys slowly and carefully.
Eliminate any distractions inside your car so you can concentrate on the road and your surroundings.
Drive slowly, anticipate heavy pedestrian traffic, and turn your headlights on earlier in the day to spot children from greater distances.
Popular trick-or-treating hours are 5:30 p.m. to 9:30 p.m. so be especially alert for kids during those hours.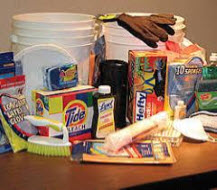 In light of recent hurricanes, Consistory in conjunction with Faith United Neighbors (FUN) group has decided to once again create Emergency Cleanup Buckets for Church World Service. We did this a while back during Lent. Following is the list of items needed, in case you happen to find good sales on these items. Bring any or all of the items you can find. Please feel free to ask store owners for donations. Buckets from Church World Service USA have already been sent to people in the North Carolina area, so they can begin clean up. More buckets are always needed. If everyone gives a little, we can create a lot! Thanks in advance for your help. Please bring items to the pew outside the pastor's office any time. Please also note that the items are specifically sized etc. to keep the buckets consistent and easy to share.
Here is what is needed
One five-gallon bucket with resealable lid (If bucket has been used, clean well but do not use if it has held chemicals of any kind.)
Four scouring pads
Seven sponges, including one large
One scrub brush
Eighteen reusable cleaning towels (e.g. Easy Wipes)
One 50 oz. or two 25 oz. bottle(s) of liquid laundry detergent
One 16-28 oz. bottle of liquid disinfectant dish soap
One 12-16 oz. bottle of household cleaner that can be mixed with water (no spray bottles)
One package of 48-50 clothespins
Clothesline, two 50 ft. or one 100 ft.
Five dust masks
Two pairs heavy-duty, waterproof dishwashing gloves (latex-free, non-surgical)
One pair work gloves, cotton with leather palm or all leather 24-28 heavy duty or contractor type
30 45-gallon trash bags on a roll and removed from carton
One 6-9 oz. bottle of non-aerosol insect repellent
Do not enclose money inside the kits or in the shipping boxes.
Download a printable shopping list
All cleaning items must be new. All liquid items must be capped and securely tightened.
PLEASE NOTE: We will be asking for specific items we do not have enough of as our Angel Tree project this year so that we can complete as many buckets as possible.
Read more: Clean up bucket collaboration puts more than 1000 kits in the hands of hurricane victims
When in sorrow………………..call John 16
When people fail you………………..call Psalm 27
If you want to be fruitful………………..call John 15
If you have sinned………………..call Psalm 51
When you worry………………..call Matthew 6:19-34
When you are in danger………………..call Psalm 91
When God seems far away………………..call Psalm 139
When your faith needs stirring………………..call Hebrews 11
When you are lonely and fearful………………..call Psalm23
When you grow bitter………………..call 1 Corinthians 13
Paul's secret of happiness………………..call Colossians 3:12-17
What is Christianity?……………call 2 Corinthians 5:15-19
When feeling down and out………………..call Romans 8:31
When you want peace and rest………………..call Matthew 11:25-30
When the world seems bigger than God………………..call Psalm 90
Wanting Christian assurance?…………call Romans 8:1-30
Leaving home for work or travel………………..call Psalm 121
When prayer becomes selfish………………………………..call Psalm 67
For a great invention/opportunity………………………………..call Isaiah 55
When you want courage for a task………………..….call Joshua 1
How to get along with people………………..call Romans 12
Thinking of investments returns?……………..call Mark 10
If you are depressed………………………………..call Psalm 27
If your pocketbook is empty………………..call Psalm 37
Losing confidence in people………………..call 1 Corinthians 13
If people seem unkind………………..call John 15
If discouraged about your work………………..call Psalm 126
Alternate Numbers
For dealing with fear………………..call Psalm 34:7
For security…………………call Psalm 121:3
For assurance…………………call Mark 8:35
For reassurance………………..call Psalm 145:18
All numbers may be dialed direct. No operator assistance is necessary. All lines to Heaven are open 24 hours a day!
Peace, Pastor Lori
We are in the process of updating and improving the church's website. We hope you like the new look!